Welcome to our shop!
We have been in business for 28 years.
HOME OF THE CUTIE!
A cutie is a 9" x 22" fabric strip.

We package different lines of fabric in sets of 16 'cuties' to form a cutie collection.

The idea of the cutie patterns came to us when we saw how much our customers loved our cutie collections and wanted patterns to go along with them. As you know, the customer is always right, and so we developed our cutie patterns.

Our cutie patterns are printed on grey stock in black ink, which lets our customers use their own creative juices to bring color and life to their cutie creations.

Cutie Collections come in a variety of fabric lines, allowing you to bring your own style - traditional, contemporary, or reproduction - to the finished product.

We would LOVE to see your cutie creations! Please send us a jpeg of your finished cutie design. Email it to orders@quiltbasket.com, make sure your image is at least 1,000 x 1,000 so we can see the detail.
Visit our Gallery to view all of our
CUTIE COLLECTIONS Quilts
.
CUTIE Glossary


For those of you who live local we hope to see you this weekend.
As a reminder, our Christmas Open House is Friday December 8th through Sunday December 10th for special demos, sales, raffles and great new gift ideas!
We will have a Pull Your Own Discount. Pick a Lollipop and see your discount ranging from 10%-40% off your purchase!
We will also have a BERNINA educator here on Saturday and Sunday. Come in to learn and play with all the different models including the Q20 Longarm.
Snacks and beverages will be served.
If you are "
FabShopping
", you will want to read all "About us"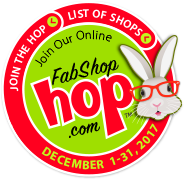 Featured Products